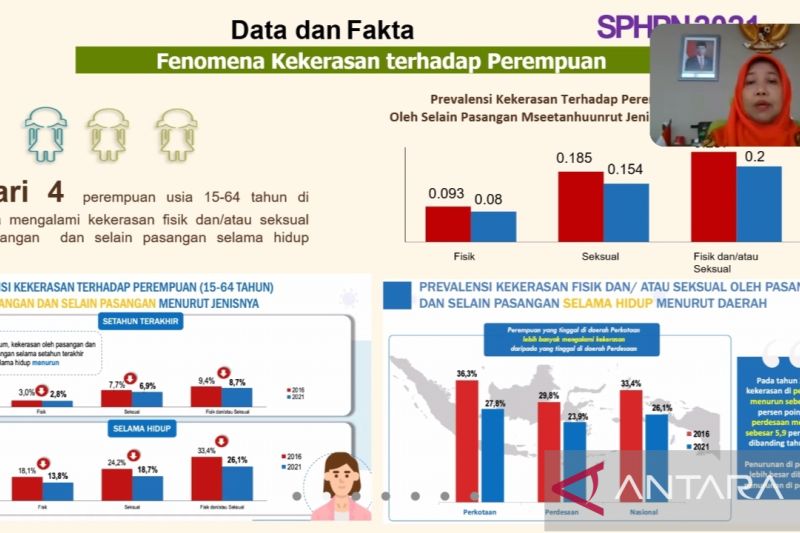 Violence against children and women hinders development: ministry
Jakarta (ANTARA) – High levels of violence against children and women can hinder children's growth and women's participation in development, the Ministry of Women's Empowerment and Child Welfare (KPPPA) has said. ).
"The impact of violence can prevent children's growth and development from being optimal and hinder women's participation in development," Rini Handayani, inter-agency relations expert at KPPPA, told a conference in line with the media, accessible from Jakarta on Friday.
According to the 2021 National Survey of Women's Life Experiences (SPHPN), 1 in 4 women in the 15-64 age group have experienced physical or sexual violence from a partner or partner. a non-partner during his lifetime, she noted.
Meanwhile, the 2021 National Survey of Child and Adolescent Life Experiences (SNPHAR) showed that 3 in 10 boys and 4 in 10 girls aged 13-17 have experienced violence in some form or another in their lifetime.
Handayani said that although the survey figures showed a decrease in the prevalence of violence against children and women, they remain concerning.
Related News: Completion of technical regulation on TPKS law expected this year
"These numbers are still quite high, although there is a decline because violence against children and women is like an iceberg," she added.
Indeed, actual cases of violence outnumber reported cases, Handayani said.
In view of the problems faced by women and children, President Joko Widodo (Jokowi) gave five instructions to KPPPA for priority programs.
The five guidelines include increasing women's empowerment in entrepreneurship with a gender perspective, increasing the role of mothers and families in raising or caring for children, reducing gender-based violence, respect to women and children, the reduction of child labor and the prevention of child marriage.
"These are the five important things that we need to solve together. KPPPA will act as a coordinator to solve these problems," she informed.
Related News: Commission calls for guidelines for investigating women in conflict