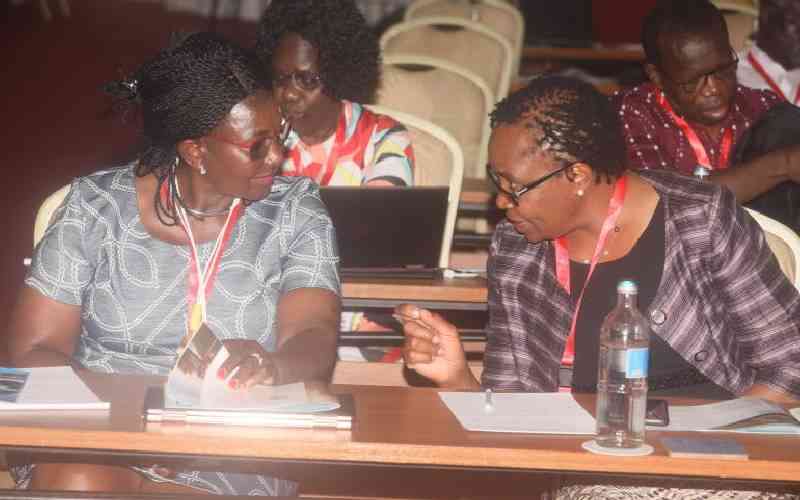 VC want President Ruto to create ministry to save university education
The vice-chancellors of public universities asked President William Ruto to establish the Ministry of University Education to lead the higher education sector in the country.
Speaking in Mombasa on Wednesday, the VCs and heads of various university colleges said the new administration should also form a task force to look at the issues that are hampering higher education in the country.
They said university education is not getting the attention it used to get from the government when the president ceased to be the chancellor of all public universities.
University leaders also discussed how to motivate researchers to commercialize their innovations.
Principal Secretary for University Education and Research, Simon Nabkwesi, said the ministry was discussing how to ensure graduates get jobs after completing their studies.
"We want to make sure that what is offered in universities is adapted to the market. Graduates shouldn't stay long after graduation," he said.
The PS said that the VC and the directors will draft a document to be presented to President Ruto, which will outline the proposals to improve university education in the country.
On funding, Nabkwesi said universities should be encouraged to find innovative ways to generate revenue to supplement what they receive from government.
The Vice Chancellor of the Technical University of Kenya, Prof. Francis Aduol, and his counterpart at the University of Eldoret, Prof. Teresia Akenga, said yesterday that there was a need for a ministry dealing directly with the academic institutions to stop their micromanagement.
They were speaking at the first annual international conference of chairpersons of public university boards, vice-chancellors and directors of constituent universities.
Nabukwesi, who opened the guest of honor, said one of the goals of the conference was to review the education system.
He said faculty are discussing how to ensure students have access to a quality education and are also proposing renovations to deal with emerging changes.
The PS added that the conference will help dons develop and share their vision in areas of governance, legislation and other regulations that can support public university education.
He asked them to also establish strategies to reduce debt and ensure sustainability and compare themselves to best practices around the world in terms of human resources and income generation.
Professor Akenga pointed out that when the president was chancellor of universities, their problems were solved very quickly.
Current law allows each university to have its own chancellor appointed by the president.
"When the president was chancellor of universities, we used to get serious attention unlike now where getting such attention is a problem," Prof Akenga said.
Professor Aduol suggested that professors should sit down and review the laws governing universities, but for now they must wait for the working groups to investigate and make recommendations.
"We should sit down and form a working group that will look at some policies and laws governing universities in the country," Professor Aduol said.
He claimed that there is too much interest in controlling what universities are doing that are not good for the education of the country's children.