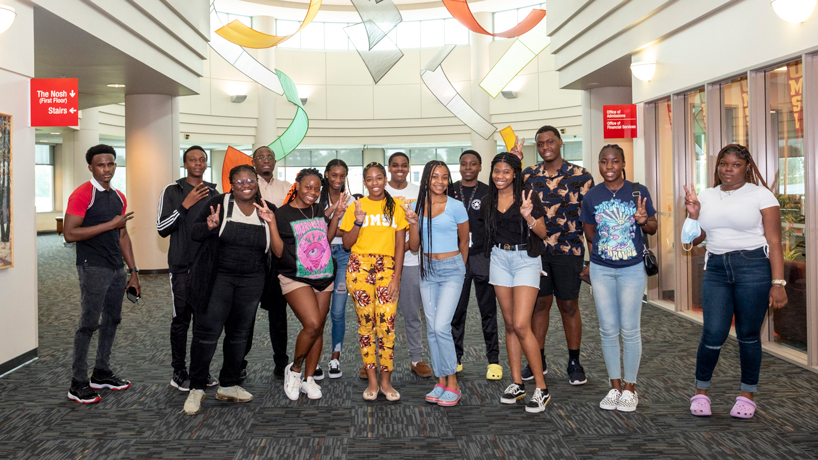 UMSL welcomes a cohort of students from the Bahamas after its partnership with the Ministry of Education – UMSL Daily
A partnership between the University of Missouri-St. Louis and the Bahamas Department of Education brought a cohort of 20 freshmen from the Caribbean country to St. Louis this semester.
Students are part of the Public Schools Scholars Program or have received the National Tuition Assistance Scholarship. The Public School Scholars program was instituted in the Bahamas in 2015 to promote college readiness, equity, and access in the public school system. The Ministry of Education offers each student enrolled in the program guaranteed scholarships ranging from $7,500 to $15,000 – and matched with scholarships from one of its 33 partner institutions in the United States and Canada – for a maximum of four years.
The National Tuition Assistance Scholarship, on the other hand, assists students who are currently pursuing professional, technical, graduate, or postgraduate studies and is worth up to $7,500 per year at accredited institutions, colleges, and universities in the international scale.
Reggie Hill, UMSL's vice chancellor for strategic enrollment, finalized the deal to become a partner with the Department of Education in January after previously signing similar deals while working in admissions at St. Leo's University and at the University of the Ozarks.
"One of the things the University of Missouri-St. Louis offers is to be a Tier 1 public research institution," Hill said. "The Bahamas Department of Education has what it considers high-need academic fields, and the majors we offer here are fully aligned with the national interests and economic interests of The Bahamas.
"I knew UMSL's brand, degree offerings, and location—being in St. Louis, Missouri, a diverse community, not only culturally but economically—would attract Bahamian students."
To participate in the Public Schools Scholarship Program or the National Scholarship Program, students must demonstrate a genuine interest in a national priority career as well as leadership and character traits and also demonstrate involvement in extracurricular activities and contributions to their school community.
Steven J. Berberich, UMSL's acting vice chancellor for academic affairs and provost, and Liane Constantine, executive director of UMSL Global, have been strong supporters of the deal.
This fall, Bahamas students joined freshmen from at least 28 countries across five continents, enriching the diversity of the campus community.
"Most domestic students at UMSL will not have the opportunity to participate in study abroad and be exposed to education in a global setting," Berberich said. "By bringing more students from different countries to our campus, we are giving our domestic students the opportunity to interact across cultures, bringing a more holistic education experience to our campus."
Being joined by so many of their compatriots should make it easier for every student living alone and away from home to adapt as they immerse themselves in the UMSL community.
Hill believes this will be an advantage when it comes to retaining students.
"Not only will they connect with each other, but the Department of Education also expects them to continue," Hill said. "These students are highly selected as students who performed well in high school and also in their national tests. They come with the economic support of their government. These students are expected to graduate in four years.
Hill said at other institutions in the past, students who were part of the public scholarship program or the national scholarship program had retention rates of over 90%. UMSL also has strong academic support services to help ensure student success.

Short URL: https://blogs.umsl.edu/news/?p=94702