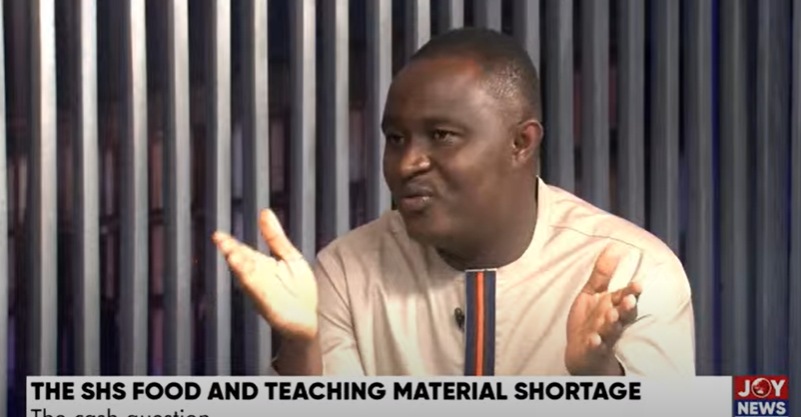 There is no food shortage at SHS – Ministry of Education
Education Ministry spokesman Kwasi Kwarteng denied there was a complete food shortage in schools across the country.
According to him, what is happening in schools across the country is only a problem of supply, but insists that the situation is not as serious as it is made out in the media.
He admitted, however, that some products, especially flour, have been in short supply for some time now, and was quick to mention that the ministry had already started taking action to resolve the problem as soon as possible.
Speaking on JoyNews' PM Express on Tuesday, he said the ministry had yet to receive any official complaint from a school principal about a complete shortage of food.
"As far as we are concerned, we have no official complaints of food shortages. You see, the whole point is about the image you want us to admit and shove down our throats that there is a food shortage.
"I admit there is a challenge as Hanan rightly said, but that challenge does not necessarily mean there is a shortage. He said, for example, you have foodstuffs, about 18 of them, about 17 of them have been provided.
"Again, there's also this little that you're supposed to provide, let's say days' worth of food that's supposed to take students through this semester, but in the space of time, currently, you could probably having amounts of food that could take them for two or three weeks.This cannot be called a food shortage.
His comments come following delays in the supply of food to secondary schools across the country.
On Monday, the Ashanti Region Postgraduate Student Representative Council called on the government to timely release food and funds under the free SHS policy.
They observed that recent delays in deliveries to most schools have led to food shortages, hampering school activities.
The late release of funds has led to a shortage of food, affecting the menu of most schools.
Ashanti Regional SRC Chairman Delancy Ama Aya Kye stressed that strict procurement control and supervision will ensure the free SHS policy operates effectively and efficiently.
"There are occasions when the funds for recurrent expenses in our schools have delayed the cessation of extracurricular activities in our schools so much.
"Without funding, crucial activities such as sports, cultural, scientific and mathematical activities. Timely release of funds will be crucial for curricular and extracurricular activities.
"A review of the supply policy to ensure that school leaders can have sufficient resources to support their local needs and supplies with rigorous monitoring," she said.
Previously, Savelugu SHS students in the North region on Sunday, February 20, protested against the quality of meals offered by the authorities.
The riot started after they accused school authorities of feeding them expired milk and canned fish. The students also said that the meals offered are very small for young adults of their species.
The raging students threw rocks on the roof of the dining hall amid chants of "we won't eat".
Responding to these issues, Kwasi Kwarteng noted that supplies are currently being deployed in high schools, thus calling for calm.
"We are leaders; we take responsibility for everything that happens in the schools. Of course, the buffer stock being an agency of the ministry is responsible for facilitating food to schools. As far as the ministry is concerned, we don't have such records and that's why we didn't want to admit it.
"But of course that also does not mean that the concerns that have been raised will not be addressed. For example, when you rightly mentioned Wesley Girls Schools, we will find out and quickly if this is the situation, we will intervene. But I would be very surprised if such a situation exists and that the school management did not let us know about it," he said.
He added that to avoid the problem of lack of money to pay for the food supply, the ministry is now considering finding other sources of funding for the Buffer Stock Company.
According to him, the Buffer Stock Company, if it were a private organization, would cost several million dollars.
He therefore suggested that at that time, the company must diversify into other sources of funding other than the government.
"And I am aware that the Minister of Education, Dr Osei Adutwum, has also had conversations about an alternative source of funding for the buffer stock as an institution so that when government money comes in, that it delays or comes in as it is supposed to at least increase their efforts. So that conversation is ongoing as well," he said.
Kwasi Kwarteng assured the parents and guardians of the good welfare of their children in the schools and assured them of the willingness of the ministry to quickly address the issue of food shortages in the schools.
"But let me assure parents that wherever there is a challenge, if we get to know the name of the school we will move in quickly, but I also don't want parents to be at least scared or are so worried that there is no food in the schools.
"We have about 722 schools and are we very sure that out of those 722 schools there is this dire situation as it is painted, this country would have collapsed," he said.