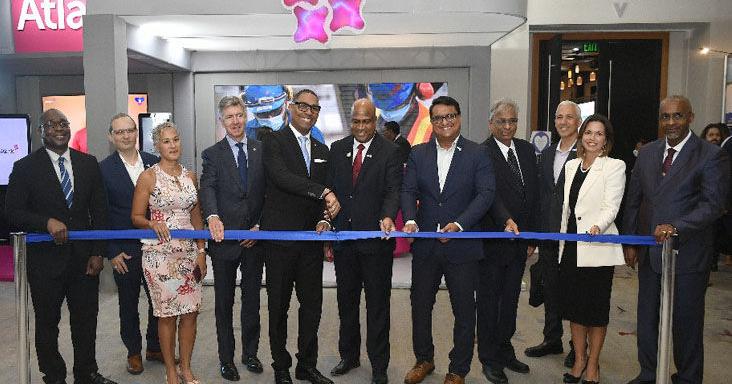 "The private sector ready to help the country" | Local company
THIS country is at a crossroads and society is deeply fractured, while the middle and working classes are under extreme pressure, according to the Director General of the American Chamber of Commerce (AMCHAMTT), Nirad Tewarie.
Tewarie made the comment at the chamber's 26th Annual HSSE Conference and Expo, which kicked off yesterday at the Hyatt Regency in Port of Spain.
He said no one expects the government to solve all the problems and the private sector is more than willing to do its part.
"We can only do this through meaningful engagement, even if we don't agree on everything from the start. It is therefore a call for more collaboration around shared objectives. This is a call to action. A call to make T&T more resilient – ​​socially, economically and physically – not just for today, but for decades and decades to come," Tewarie emphasized.
He stressed that it's time to embrace big ideas, the healthy tension created by deep and meaningful collaboration between diverse groups.
"Let's commit to building trust by taking decisive action to achieve the progressive things that will show progress. Let's commit to listening and consulting more and better to create psychological safety for more and better ideas, so many of us are rowing in the same direction," he told a packed room.
As for the broader scope, Tewarie said recently that Jamaican Prime Minister Andrew Holness spoke about his country becoming a producer of technology.
He said AMCHAMTT has been advocating for at least five years that as a country, government, private sector, academia and related institutions come together to develop a local tech sector as a new pillar of the economy. .
"So let's dream and imagine that we will have a premier software development center from one of the major technology companies – Google, IBM, Meta or similar – established at T&T within the next 24 months.
"We will create the conditions for the creation of 100 tech start-ups in the next three years. We will facilitate the growth of 25 technology companies so that they each earn a minimum of $5 million in revenue outside of Trinidad," he said.
Tewarie said he imagines this country will reform the education sector to integrate teaching and learning through multiple intelligences.
"We will create spaces in communities where data shows low academic performance, to teach coding, build athletic ability, and create spaces for the performing arts.
"Imagine we get crime under control so families can comfortably stroll Brian Lara, Scarborough and San Fernando promenades late at night while listening to live music as restaurants, bars and cafes set up their patios and their meals out," Tewarie said. .
He said to imagine a country that will manage traffic so that no one has to spend, in the first place, more than an hour to get from any point on the highway to another and add metrics for highway access times from other cities.
"Imagine that we will totally eradicate flooding in T&T starting at the same time as the most frequently affected communities and cities that have been most severely affected in recent times," Tewarie added.
Also speaking at the conference, AMCHAMTT President Toni Sirju-Ramnarine said the aim of the HSSE is to assess situations and make risk assessments, in hopes of avoiding an accident or tragedy.
"It's what keeps us safe and functioning. But what happens when we face issues we thought were unimaginable or impossible? Preparing for the unknown is a big part of that. which will help us to always save lives and keep our businesses running smoothly," explained Sirju-Ramnarine.
She noted that technology must play a vital role in improving the protection of people and the natural environment.
"So, let's start using digital transformation to empower our people to take a more active role in ensuring safety. Remember that going digital does not replace employees, it offers employees the opportunity to have augmented systems to help them in work that adds value, not only for the organization, but also for themselves. This helps to reduce risk and enable employees to make informed decisions faster, thereby saving lives," concluded Sirju-Ramnarine.