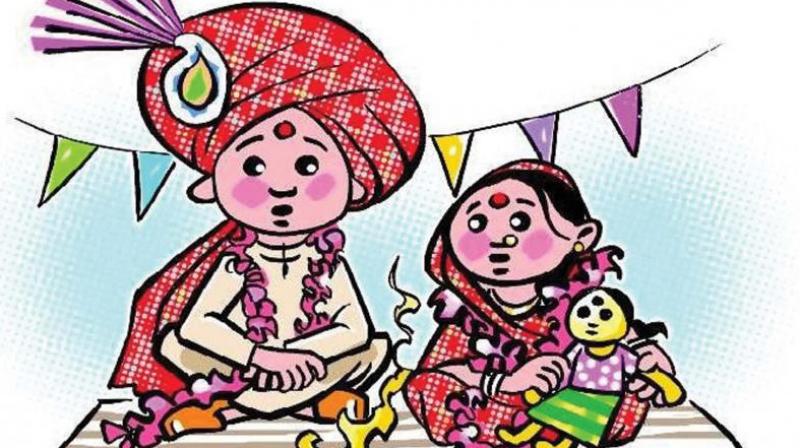 Preventing child marriage in tribal communities becomes a challenge for authorities – Punekar News
Pune, 13 November 2022: Although there is a law against marrying a girl before the age of 18, the Katkari tribal community still has a deadly practice of child marriage. It is a shocking reality that tribal girls become mothers of three to four children due to child marriage before they turn 18. There is a big challenge in front of the government and administration to prevent child marriage of these tribals.
The Katkari tribal community lives in the Sahyadri hills in the Sinhagad fort area, further from Khadakwasla village. Awareness of basic needs such as food, clothing, housing, health and education is still far from this society. Separated from the mainstream of society, undesirable practices and traditions that have endured for years continue in the Katkari tribal society. Due to poverty and ignorance, marriage of boys and girls at young age is a practice, and serious health and other problems are seen in these Katkari settlements.
Due to child marriage, young girls have to bear the pain of childbirth at an early age. Surprisingly, the lives of the young mother and the baby are in danger as the proper pre-delivery medications are not taken and the delivery also takes place in the hut. Sadly, mothers and children can also die, but information about this remains far from the administration of child marriage.
Reasons for child marriage
• Retrograde thinking due to ignorance.
• Preference for traditional customs and traditions.
•The challenge of caring for girls up to 18 years old.
•Ignorance of the law due to lack of education.
• Administrative apathy.
Duties of the Child Marriage Prevention Officer
•Comprehensive prevention of child marriage.
•To gather evidence and take appropriate action against the person who fails to comply with this Act.
• Raise awareness and sensitize the public on the harmful effects of child marriage in society.
• A Child Marriage Prevention Officer may be given the same powers as a police inspector to ensure strict compliance with the provisions of this Act.
"If there are any child marriages in the village, it is the responsibility of the sarpanch, gram sevak and talathi to inform about it. Due to ignorance, the practice of child marriage continues in the tribal society. There is a need to raise awareness among them about the serious problems caused by child marriage and understand their problems and take appropriate action," said Akshada Shinde, Integrated Women and Child Development Project Manager and Head of prevention of child marriage, Panchayat Samiti Haveli.
Now also read news in Marathi
Join Punekar News WhatsApp group, Telegram, instagram And Twitter For regular update on Pune city and Pimpri-Chinchwad
Also read political news on Sarkar Khabar