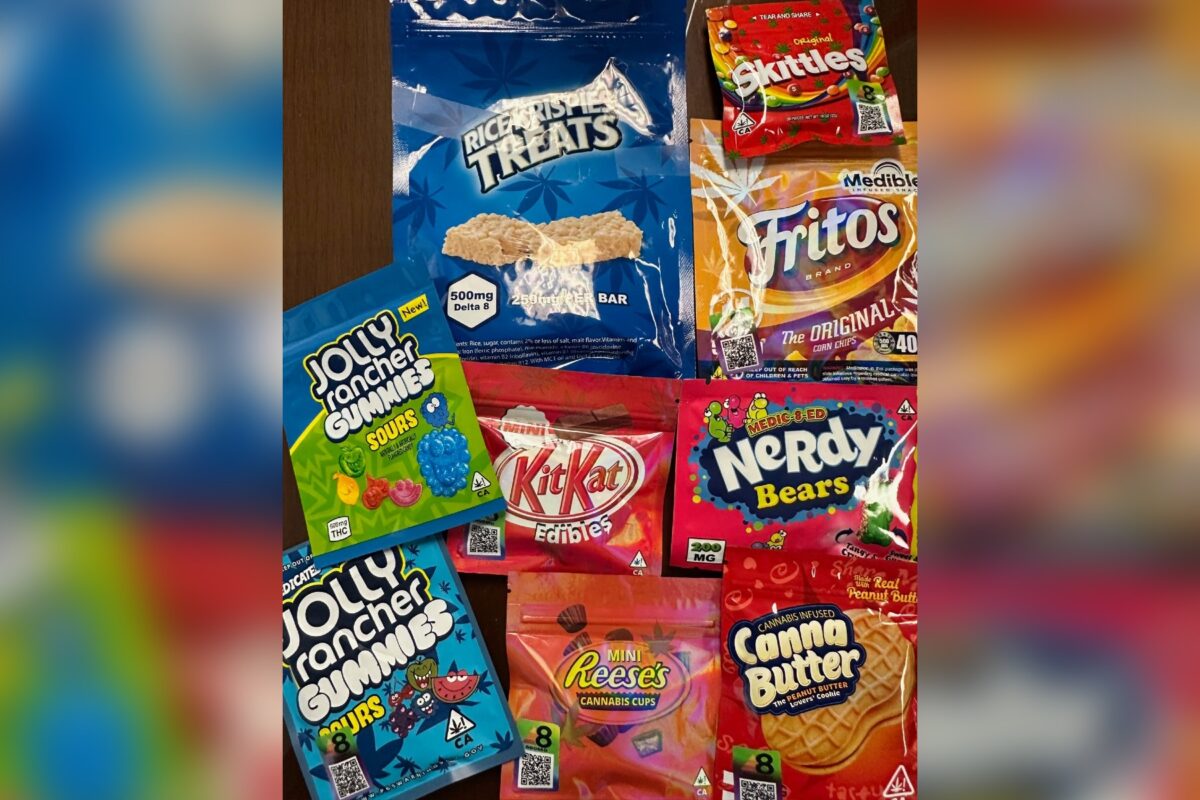 North Carolina authorities seize counterfeit candy containing THC, marketed to children
Thousands of dollars worth of counterfeit candies and snacks containing THC, including knockoffs from brands such as Skittles and Cheetos, have been confiscated from gas stations, convenience stores and vape shops in North Carolina.
THC, or tetrahydrocannabinol, is the psychoactive ingredient in marijuana.
Authorities confiscated nearly $224,000 worth of concealed THC-infused snacks from popular brands marketed to children.
State Office Trademark Enforcement Officers, along with the North Carolina Anti-Counterfeiting Task Force, worked with local authorities to seize the products, which, in addition to Skittles and Cheetos , also included THC-infused knockoffs of Lifesavers and Girl Scout Cookies. .
"Our officers launched this coordinated law enforcement effort after noticing a growing trend of THC-infused gummies and snacks being concealed in counterfeit packaging from popular snack brands marketed to children. These are brands that children can easily take and consume without knowing what is actually in them," North Carolina Secretary of State Elaine F. Marshall said in a press release Thursday.
Marshall referenced an incident earlier in 2022 when a 4-year-old boy in Virginia died after eating THC-infused gummies, adding that "the fact that so many of these products are counterfeit brands aimed at children is very disturbing".
According to a news release from the Spotsylvania Sheriff's Office in Virginia, a Spotsylvania County grand jury has indicted the mother in her son's death on May 8, 2022.
The child was reported to be suffering from a high level of THC toxicity.
However, the child's death caused by THC is disputed because doctors still don't know if a human can in fact die directly from marijuana alone.
Medical experts agree the drug may have negative health consequences as well as benefit people with post-traumatic stress disorder and terminal illnesses requiring nausea-inducing drugs, but there have been no reports. conclusive reports that THC was the direct cause of death.
According to authorities in North Carolina, the packaging of edibles containing THC included markings indicating that the snacks contained THC. However, Marshall said these marks can easily be overlooked.
A total of 23 search warrants and 30 consent searches resulted in the removal of counterfeit products from various establishments in eastern North Carolina.
Ahead of Halloween — a concern for authorities over the potential for mispurchases leading young cheaters to ingest THC — police in Roxboro, North Carolina, seized 145 counterfeit products imitating Nerds, Sour Patch Kids, Oreos and even Cocoa Puffs cereal.
According to the Roxboro Police Department, 126 of the 145 articles violated copyright laws.
No arrests
A spokesperson for the North Carolina Secretary of State's office told The Epoch Times that there were no arrests because it was an education sweep.
The traders told law enforcement they did not know the products were counterfeit.
"Individuals were given warnings with the understanding that our officers, along with local task force officers, would review them," the spokesperson said.
Products containing THC derived from hemp plants are legal in North Carolina, provided THC concentrations do not exceed 0.3%. As a result, residents of North Carolina can legally purchase THC products from online retailers or local stores.
"A significant health concern behind this is that even though the adults making these purchases know what they are buying, children might be drawn to the packaging, not knowing that the products contain THC," the gatekeeper said. -word.