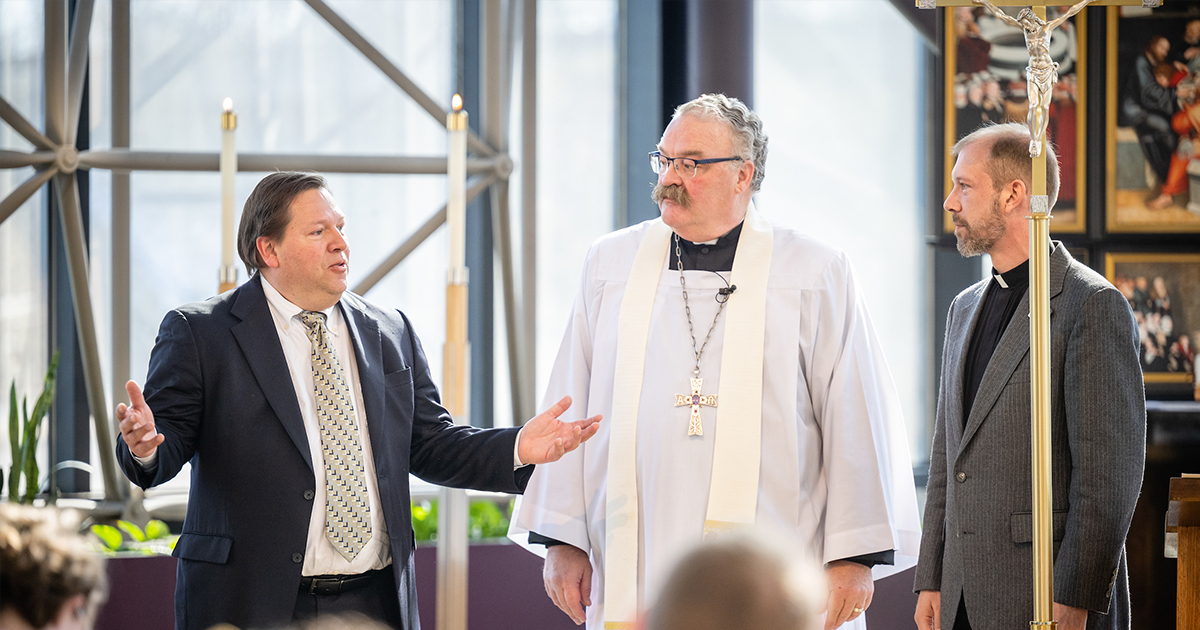 KFUO, Ministry of Schools welcome new staff members
On February 10, two new staff members were installed during the daily chapel at the LCMS International Center (IC) in St. Louis:
Alan Freeman, Associate Director of LCMS School Ministry; and
Reverend Doug Griebenaw, mission advocate for KFUO Radio.
Freeman comes to IC from the LCMS Missouri district, where he worked with 111 schools as an education manager. Previously, he served as principal of Concordia Preparatory School in Towson, Md. He holds a bachelor's degree in secondary education from Concordia University, Nebraska, Seward, Neb.; a master's degree in educational administration and supervision from Concordia University Wisconsin, Mequon, Wis.; an education specialist degree from the University of Nebraska at Kearney in Kearney, Neb.; and a doctorate in instructional leadership from the University of Arkansas, Fayetteville, Ark.
Freeman and his wife, Kristin — who serves in the life ministry at IC — have two children, Holly and Samuel, both graduates of St. Charles County Lutheran High School in St. Peters, Mo. After installation, Freeman said, "I look forward to working with the LCMS school ministry team and collaborating with all members of the Office of National Mission to joyfully support and serve church workers and ministries. schools as they spread the gospel message and train the next generation of Christian leaders."
Griebenaw holds a bachelor's degree in communications from the University of Denver. Prior to becoming a pastor, he worked for 10 years in nonprofit development and fundraising and served in the U.S. Navy Reserve as an Aviation Electrician's Journeyman, receiving an honorable discharge in 2010. He attended Concordia Theological Seminary, Fort Wayne, graduating in 2016. His first calling was to Grace Evangelical Lutheran Church in El Centro, California.
Griebenaw and his wife Holly, a graphic designer, have two sons, Sam and Leo. Griebenaw said that as he transitioned from a parochial setting to IC, "I was concerned that the sense of family that a congregation and a pastor develops was missing in the office setting. I was pleasantly surprised to discover that IC still has a strong sense of "family" – a group of loving people, brought together by the same Gospel and united in the same mission: to serve the Body of Christ and to proclaim salvation by his name to a world in desperate need of the healing love of Christ! It is a rich blessing to be among such wonderful saints in the service of the Church of Christ.
Reverend Dr. Matthew C. Harrison, president of LCMS, preached for the service on 2 Peter 1:16: Lord Jesus Christ, but we have been eyewitnesses of his majesty. Referring to the 1973-74 Synod controversy over the inerrancy of Scripture, Harrison said, "We almost lost our souls, but the Lord was merciful.
Turning to Freeman and Griebenaw, Harrison said, "Scripture is Jesus' own Word to us. We cannot take it for granted or overlook it in this building. Jesus himself believed that the scriptures came directly from God and had the authority of God. Jesus lived under this authority.
"We only believe what Jesus believed about the Bible. It must be our constant guide and consolation. You will have trials and frustrations. But no matter what you face, there is nothing to worry about. You have Christ and His Word. The Lord provides everything you need for your task.
Posted on March 3, 2022