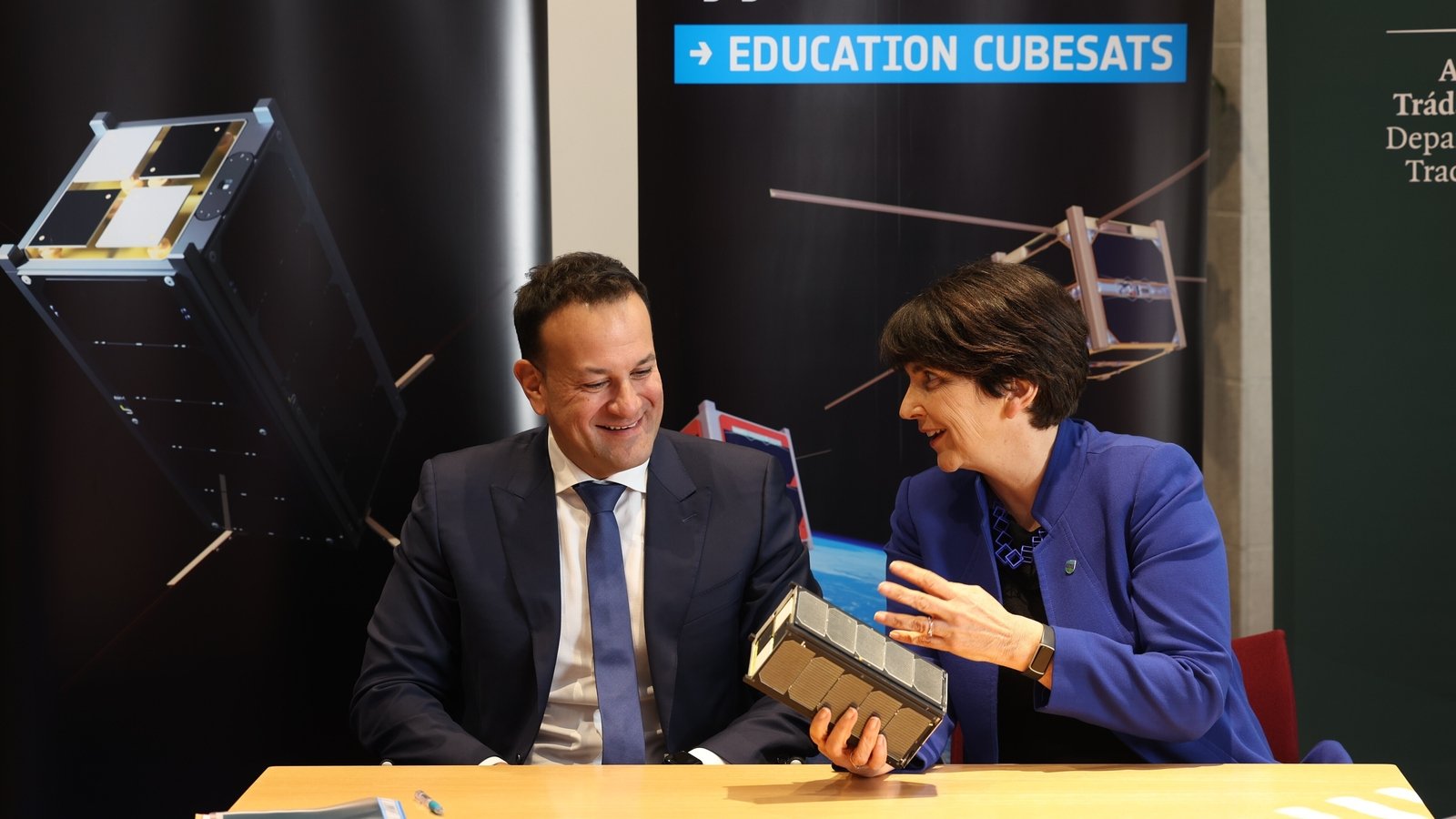 Ireland well placed to exploit growing space sector
Space. The final frontier.
Ireland is preparing to leave boldly, as early as January or February.
Our first space mission will be to launch a satellite.
Catchy title? It's the Educational Irish Research Satellite, or EIRSAT-1.
Announcing the mission at government buildings last Monday, Tánaiste Leo Varadkar was enthusiastic, hailing a "significant milestone".
However, some of the reactions to a tweet I posted from the event suggested there were others less than impressed.
One such response came from Jim Fitzpatrick, best known for designing the iconic red and black image of Argentine revolutionary, Che Guevara, wearing a trademark beret.
Upon news of Ireland's first rocket adventure, Fitzpatrick joked: "Hope there's Leo in it."
Others also mocked: "Space cadets this government"; "It IS Waterford Whispers, isn't it???" ; "Micks in SPACE"; and "It MUST be called SpudNik."
Derision is one thing. Outright opposition is another.
Some questioned the timing of an energy crisis, a cost of living crisis and a housing crisis.
One tweeter, David Swinburne, spoke for them when he replied, "And we still have homeless people on the streets, it's unbelievable."
Of course, Twitter doesn't reflect the nation as a whole.
But it's a straw in the wind, I would say, that the public has to be convinced of the benefits of our space program.
The reason for Monday's press conference was that the Tánaiste had just signed an agreement with the European Space Agency.
ESA plans to launch EIRSAT-1 from French Guiana between late January and late February 2023, for a four-year mission.
It is hoped that the satellite will tell us more about the formation of the universe.
One of the EIRSAT-1 team members, Rachel Dunwoody, explained how it includes a gamma ray detector to examine exploding stars.
PhD student at UCD, she told us that simulations were already underway, ahead of the launch.
Also present at the event were the Director of the UCD C-Space Center and the EIRSAT-1 project, Professor Lorraine Hanlon, and the UCD Vice President for Research, Innovation and Impact , Professor Orla Feely.
As well as telling us about EIRSAT-1, they also talked about the possibility of future missions – including the possibility of launching larger satellites with weather monitoring capabilities.
UCD experts have advanced the argument that Ireland has the skills to benefit from space exploration.
Professor Feely observed that our country has strengths in electronics, advanced manufacturing, artificial intelligence and data analytics.
She said: "We see a huge opportunity for Ireland to play a major role in space science and Earth observation."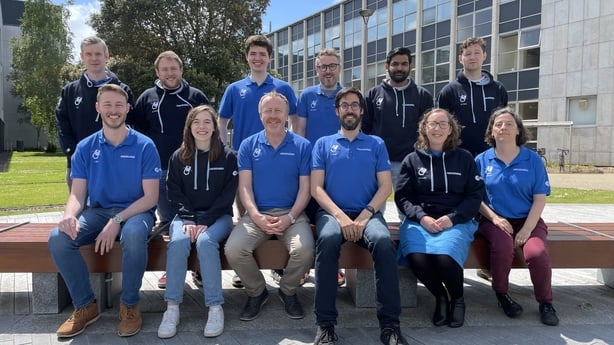 The question, however, is how much will this atmospheric burst attempt cost?
Will ROI shine like a shooting star, or could the Exchequer throw money into another black hole?
Independent TD Michael McNamara followed the intergalactic money trail earlier this month, asking a parliamentary question about "the amount paid to the European Space Agency from 2002 to date in 2022".
In response, Minister of State Damien English said: 'Ireland's annual contributions…combined amount to just over 325 million euros.'
He then blindsided Clare's deputy with science, referring to "geo-return".
This turns out to mean that a proportionate amount of the money invested in the ESA is given back to Irish companies to develop and build new technology.
Notably, there are 97 of Ireland's so-called "space-active" companies with ESA contracts.
And the space pie is growing faster than the Universe.
The global space economy is estimated to be worth $350 billion (€355 billion) in 2020, but is expected to reach $1 billion (€1.02 billion) by 2030.
In a Dáil speech last July, Minister of State Damien English sought to sell the concept of EIRSAT-1 to the general public by reminding us how ubiquitous satellite technology is in our lives.
He referenced satellite navigation, weather apps, broadband, television services, as well as data on the health of our planet.
The Minister said: "Satellites can measure air quality in cities and the rate of melting of ice caps, for example, and they can monitor deforestation and inform policy decisions targeting sustainable agriculture around the world. Importantly, in emergency situations such as floods or fires, satellite data can be used in real time to assess damage, supporting a safe and informed emergency response."
At the event held this week at government buildings, the Tánaiste agreed, saying: "He has huge potential for spin-offs for Irish businesses and universities."
Mr Varadkar said Ireland's contributions to the ESA have been repaid "in multiples".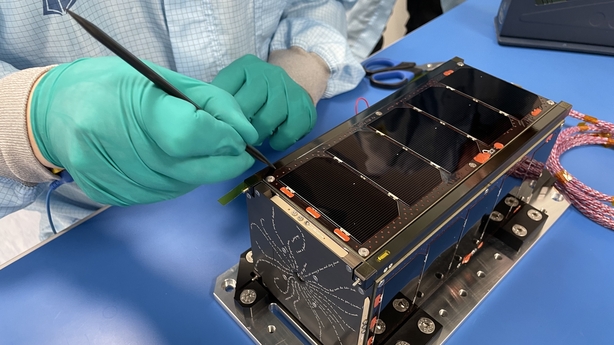 This point of view is also shared on the opposition benches.
Social Democrat co-leader Catherine Murphy has spoken out in favor of the Dáil on Ireland's growing space ambitions.
She said our involvement with ESA has opened up business opportunities for Irish companies focused on aviation and aerospace.
She felt that our participation in ESA-led projects also facilitated learning and development in places like UCD.
Will it win over the skeptics? Probably not.
However, the launch of the EIRSAT-1 satellite will be the most significant moment in Ireland's engagement with space to date.
So far, our involvement has been limited to providing personnel who have collaborated on space missions – living vicariously on their stellar success.
People such as the legendary Professor Susan McKenna-Lawlor, of UCD and Maynooth University, who is perhaps best known for her part in the Rosetta mission.
In an extraordinary NASA operation, a spacecraft was launched in 2004 and a decade later managed to encounter a comet 405,000,000 km from Earth.
Incredibly, NASA was then able to jettison a lander onto the comet's surface – a seven-hour descent at a relative speed of about three feet per second.
More recently, the Irish followed the Trojan efforts of Dr Norah Patten, from Ballina in County Mayo, to become Ireland's first astronaut.
fly like one @PoSSUMAastronaut researcher on a microgravity flight w @NRC_CNRC is a highlight of life 🚀 I just can't wait until @blueorigin & @virgingalactic start flying researchers like me into suborbital space 👨🏼‍🚀 Let's do this 🇮🇪 pic.twitter.com/5WC6l3sJ43

— Dr. Norah Patten 🚀 (@SpaceNorah) August 31, 2020
But a true Irish space mission is unique – although EIRSAT-1 will be just one of many satellites launched by the same ESA rocket next year.
There will undoubtedly be interest in the launch and hopefully a successful rollout.
Beyond that there is yet a bigger and more difficult mission – to ensure that the public is made aware of the need and value of Ireland's ongoing space adventure.
To infinity. And beyond.