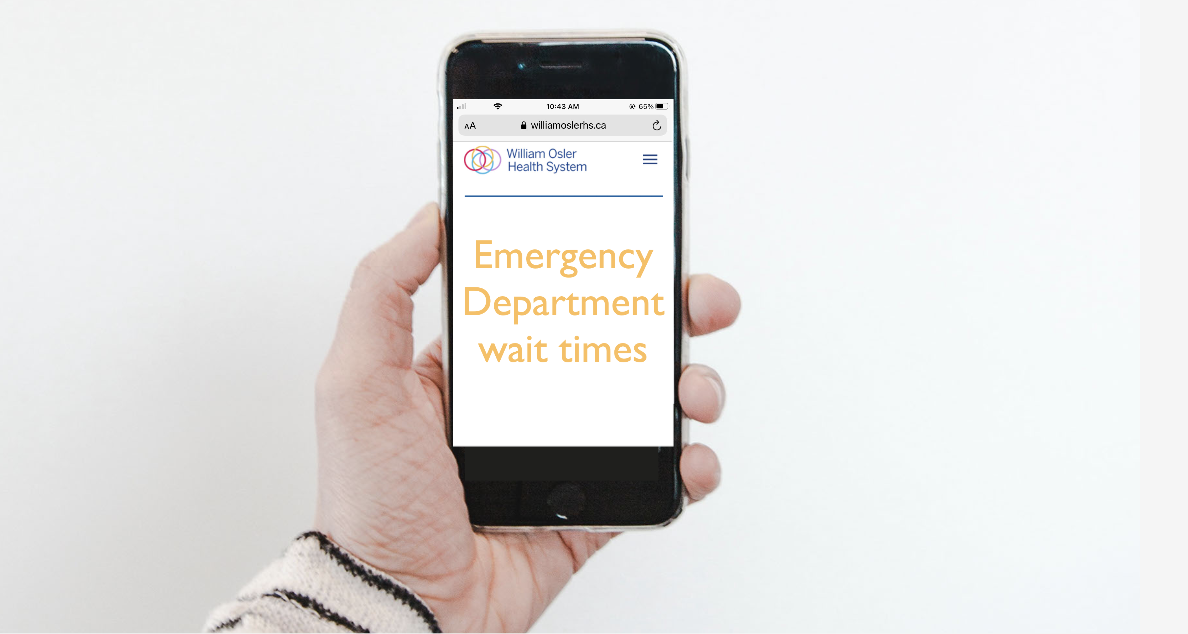 Health System News William Osler Health System Uses Technology to Improve Patient Experience
Have
As one of the communities hardest hit by COVID-19 in the province, William Osler Health System (Osler) is making the most of its technological expertise to continue to provide safe and compassionate health care. An online emergency department (ER) pre-registration form, emergency room waiting clocks and a digital patient engagement platform all helped to further improve the patient experience during one of the most difficult times. of Osler's story.
The ED online pre-registration form allows quick access to care
Osler's new online pre-registration form means shorter wait times for patients to see a doctor by minimizing the time it takes to register for emergency care at Osler's Brampton Civic Hospital and Etobicoke General Hospital. The pre-registration form option is available to all walk-in ER patients at the time of their visit via a QR code displayed in both ERs.
The online tool gives patients greater autonomy to fill in their confidential information electronically on their personal devices, thus eliminating the need to verbally share personal information in a public setting. Enrollment clerks are available to assist patients who require assistance with the online tool.
"Osler's emergency services continue to be among the busiest in the province," said Kiki Ferrari, Osler chief operating officer. "The implementation of the online pre-registration form has allowed us to streamline and improve the patient experience by improving the accuracy of patient information collected and the time spent seeing a doctor. its community when and where it is needed.
Emergency service wait clocks help inform decision-making
Available on its website and in each site's emergency waiting rooms, Osler's electronic emergency waiting clocks help patients plan ahead and make informed decisions about their care. Emergency wait clocks let patients know how many patients are being treated, how many are waiting to be treated, and what the expected wait time is in a 24-hour period in each emergency. Wait times reflect the 90th percentile, which means nine out of 10 patients are likely seen within that estimated time.
"One of the most common questions asked by patients in our emergency departments is, 'How long will it take me to see a doctor? "And emergency waiting clocks are another way to help keep people informed during what can be a very stressful time," said Dr Andrew Healey, chief of emergency medicine at Osler.
Digital Patient Engagement technology supports surgical patients
Another technology having a positive impact on the patient experience is Osler's digital patient engagement platform. Launched in partnership with SeamlessMD in August 2021, the platform helps improve the safety, quality and outcomes of healthcare for surgical patients. SeamlessMD guides patients before and after their surgeries with education, progress tracking and symptom monitoring accessible through their personal devices (i.e. smartphone, tablet or computer).
"SeamlessMD is one of Osler's excellent technology partners, helping us deliver innovative patient care across all of our hospital sites," said Dr. Rardi van Heest, Osler's vice president of medical affairs. "Patients love their technology-driven experience, and SeamlessMD's streamlined perioperative dashboards have improved daily operations in our pre-anesthesia clinics and surgeon's offices. "
The platform offers personalized dashboards that allow Osler's healthcare team to monitor the health of patients throughout their journey. SeamlessMD improves accessibility by supporting several languages ​​that are predominant in Osler's various communities, including English, Punjabi, Urdu, Hindi, Portuguese, Italian, and French.
As of September 2021, more than 3,400 patients had already benefited from the digital experience, with 88% of patients recommending SeamlessMD to others to help them manage their health at home after their hospital procedure. One patient said: "I felt less alone after I left the hospital. Another patient said the digital experience was "quick and easy and felt like someone was watching me every day."
Building on these successes, Osler continues to innovate and advance new technologies such as the online pre-registration form, emergency room waiting clocks and the digital patient engagement platform to further inspire the patient confidence, improve access to care and promote positive patient outcomes.