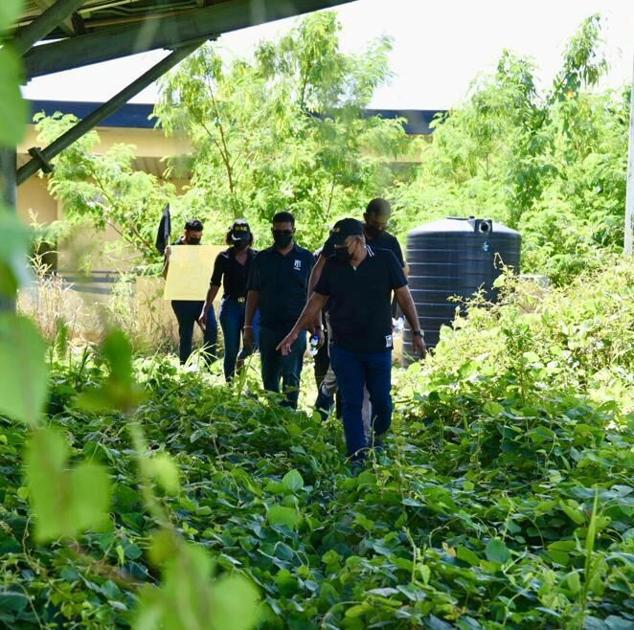 Demonstration against an unfinished school: the ministry reacts | Additional news
A placard demonstration outside the gates of the unfinished Ramai Trace Hindu school in Debe again called on the Education Ministry to open its doors to students.
The protest, which is part of the "popular revolution" campaign in the Oropouche East constituency, accused the government of victimization which has injured residents of Ramai Trace and surrounding communities.
Oropouche East MP Dr Roodal Moonilal expressed solidarity with residents, saying that for six years in a row, parents, teachers and students have consistently and peacefully expressed their discontent to the Ministry of Education and the government.
"A school that accommodated over 250 students and a hallmark of the Ramai Trace and surrounding community, 95% complete at the end of the People's Partnership mandate, has never been completed to date," said the deputy.
Moonilal said residents were not acting illegally in expressing concerns about the government's delay in completing school.
"It is the right of all our citizens to raise issues of urgent public importance and to hold the government to account for its promises and its apparent geographic discrimination," he said.
The Ramai Trace Hindu School was being rebuilt under the People's Partnership government led by Kamla Persad-Bissessar and although it is over 90% complete, students are still housed within a temple compound in about 45 minutes.
Parents said their children were in dire straits and called on the government to open the school.
Residents said the site is now overgrown with bushes and poses a safety hazard to people living in the community.
Last year, Moonilal wrote to the government asking them to consider finishing school during the Covid-19 restrictions, as students were taking classes online.
Residents staged several protests, including a four-day protest and a six-mile walk from Ramai Trace to the Education Department's office in San Fernando.
The school was renamed the Dr Roodal Moonilal Ramai Trace Hindu School in honor of the MP in 2013.
In response to actions taken by residents, Education Minister Nyan Gadsby-Dolly told the Express that the school would be completed in the second phase of the ministry's school completion project, which includes nine schools for an estimated cost of $ 407 million.
However, this phase will begin as soon as funding is provided by the Ministry of Finance.