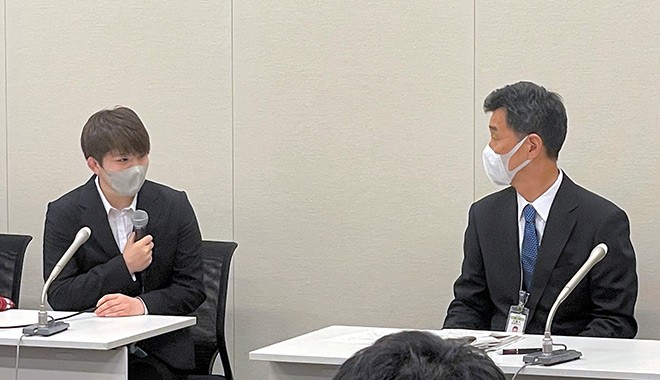 Defense Ministry apologizes to ex-SDF member for sexual assault
The Ministry of Defense has apologized to a former member of the Ground Self-Defense Force after an internal investigation confirmed she was sexually assaulted by members of her unit.
"I hope fundamental improvements will be made so that nothing like this happens again," said Rina Gonoi, 23, a former member of the SDF.
She made the comment after receiving an apology from Kazuhito Machida, the head of the Ministry's Personnel and Education Bureau.
Gonoi went public with her claim last month that she was harassed and sexually assaulted by three SDF members during training in August 2021, while stationed at the GSDF Koriyama camp in Fukushima prefecture.
She said the men pushed her down and repeatedly pressed their crotch against her.
According to the Ministry of Defense, which announced on September 29 that its internal investigation had confirmed its claims, members of its unit made sexual remarks or physical contact on a daily basis.
Testimonies from several members confirmed several instances of such conduct in Gonoi. Members of her unit had sexual contact with her at a guard post in the fall of 2020 and also had sexual contact and remarks with her in a camp at a training site in June 2021.
They pushed her down and had sexual contact in accommodation at a training site in August 2021 and warned her not to say anything about the incident.
The company commander did not report his complaints to the senior officer, the battalion commander, nor did he investigate the facts.
She submitted a petition to the Department of Defense on August 31 bearing more than 100,000 signatures calling for an investigation.
Following this, the ministry launched an extensive investigation into the sexual harassment of all FDS personnel.
The internal investigation also confirmed that other women had also been victims of sexual abuse. The ministry said it would punish those involved.
GSDF Chief of Staff Yoshihide Yoshida bowed his head in apology during a press conference on the afternoon of September 29.
"We offer our sincere apologies to (Ms Gonoi), who has suffered for a long time," he said.
When asked why the SDF was unable to confirm her harassment until she left the service, Yoshida said, "We are ashamed. We are really sorry."
That same evening, Gonoi received an apology at the Diet.
"I think it's really late (to acknowledge it)," she said, "I think the initial investigation was overlooked."
She demanded that the unit members who had sexually harassed her apologize.
She also claimed that she was forced to write a consent letter and a written undertaking not to press charges when she resigned from the GSDF.
In response, the department promised it would take corrective action.
(This article was written by Kaigo Narisawa and Nobuhiko Tajima.)