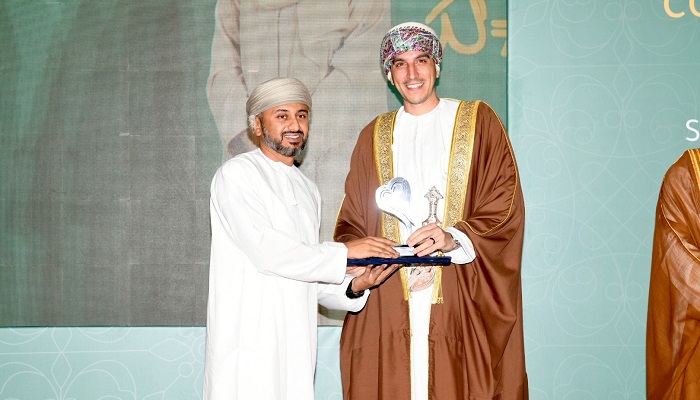 ALIZZ ISLAMIC BANK honored by the MINISTRY OF SOCIAL DEVELOPMENT for its CSR efforts
Muscat: In recognition of its pioneering role in giving back to the community, Alizz Islamic Bank was honored by the Ministry of Social Development at an event organized by the ministry to commend government and private organizations that provide support for social accountability programs . The event was held under the patronage of His Highness Sayyid Kamil bin Fahad Al Said in the presence of HE Dr. Laila bint Ahmed Al-Najjar, Minister of Social Development, CEOs and private sector representatives and several guests from Mark. The award was received by Mr. Murtadha Jawad Al Lawati, AGM – Head of Marketing and Corporate Communications Department of Alizz Islamic Bank.
Alizz Islamic Bank has recently entered into voluntary partnerships to support various CSR initiatives, under the direct supervision of the CEO, including contributing to the construction of the Center of Excellence for Children with Disabilities and collecting donations for the orphans of the Child Care Center . In addition, it seeks to engage employees in volunteering, in collaboration with numerous associations.
The bank has implemented various social responsibility programs such as a direct donation of OMR 150,000 to the Oman Charitable Organization's Cyclone Shaheen Aid Fund and a relief and food campaign launched to support those affected by the cyclone. , with the participation of a large number of volunteers from across the Sultanate who distributed aid to those affected. Additionally, the bank also offered support to its customers who were directly affected by Cyclone Shaheen.
Alizz Islamic Bank also continued its "Iftar Sayem" initiative, for the eighth consecutive year, aimed at distributing Ramadan boxes, filled with essential food items, to low-income families in the communities in which the bank operates. Th Bank has supported the Department of Social Developments efforts to provide students from low-income families with the advanced technologies they need to access the distance learning platforms that schools have resorted to due to the pandemic. In this regard, the Bank has donated 50 laptops and 10 tablets to the Ministry to ensure that these children can continue their education.
The social responsibility programs implemented by the Bank are part of its mission to achieve exceptional and sustainable results for our shareholders. Since its establishment, Alizz Islamic Bank has launched several projects that have had a positive impact on the community and created value for all. The Bank has prioritized investing in our communities with the aim of providing a better life for the people it serves across the Sultanate, as it believes that investing in sustainable initiatives is the key to good -being of society. The Bank has offered strong support to effective national organizations that aim to build strong and resilient communities and has contributed to the growth of social non-profit organizations.