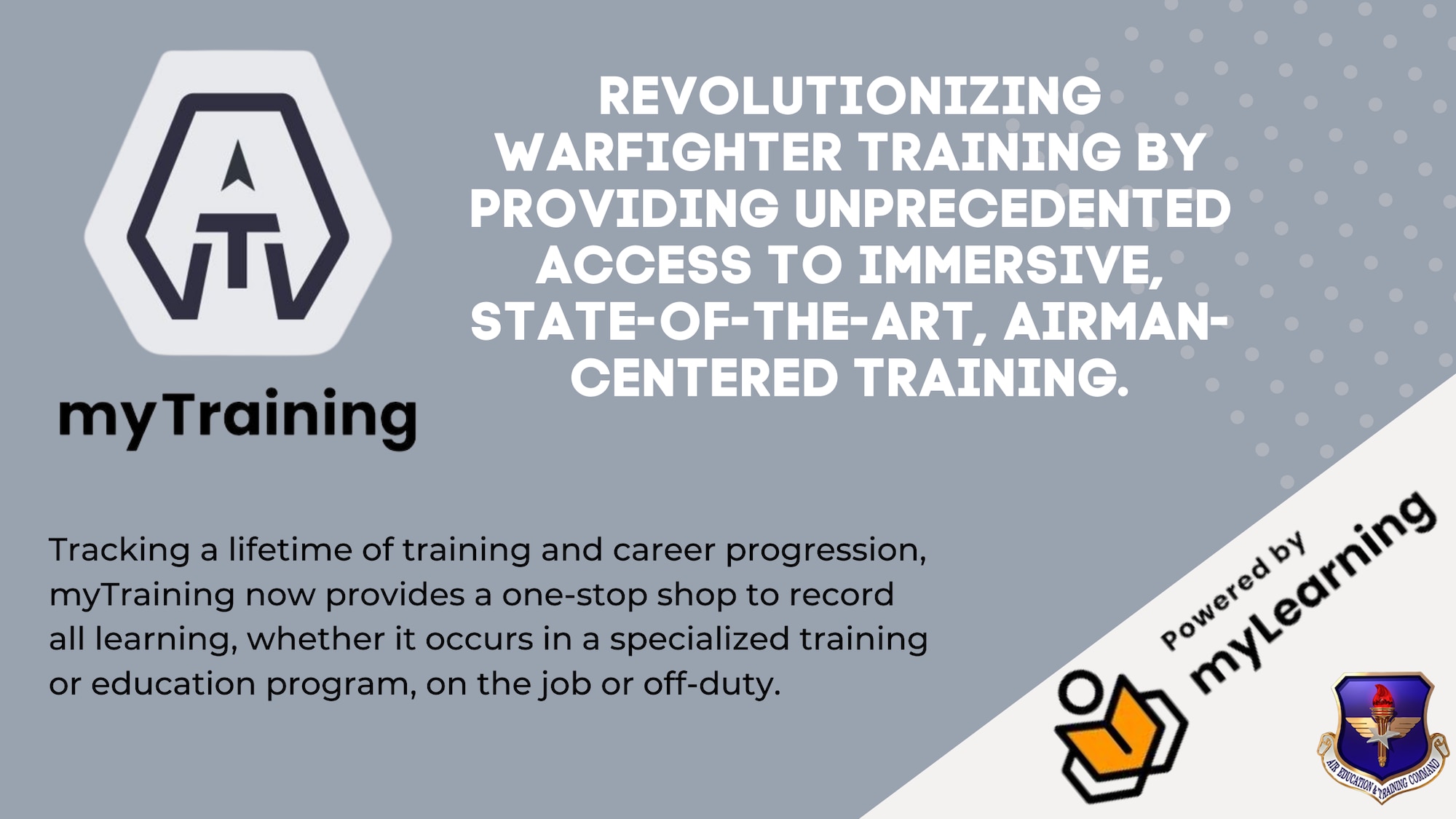 AETC Launches Phase II of myTraining System Designed to Track On-the-Job Training > Air Force > Article Display
JOINT BASE SAN ANTONIO-RANDOLPH, Texas (AFNS) —
As part of Air Education and Training Command's efforts to advance force development throughout the Air Force, AETC officials announced the launch of Phase II of the service myTraining application to Airmen on June 7.
The myTraining System, 'Powered by myLearning', replaces the Total Force Training Log for Airmen and Guardians and provides the ability, through 21st Century learning tools, to manage the training lifecycle Total Force personnel. myTraining was designed by CTEA's Learning Services Division to improve mission productivity, efficiency and effectiveness and bottom-up reporting to other departments to share the data needed to accomplish the joint mission.
"The old way of tracking learning is outdated and needs to be modernized to accelerate the change we need to keep pace with demand and the rapidly changing virtual learning world we live in today" , said Colonel Randy Oakland, director of operations and communications for the AETC. . "The The myTraining platform is another example of how the AETC is developing autonomous Airmen with the attributes needed to compete, deter aggression and win in high-end combat.
Additionally, the Air Force will realize significant cost savings by eliminating redundant infrastructure, and Airmen and guards will spend less time on different applications, Oakland said.
As a replacement for TFTR, the The more modern myTraining is now integrated into the myLearning apps with data migrated from the old training business area and Air Force training record.
"Following a lifetime of training and career progression, myTraining provides a one-stop shop for recording all learning, whether it occurs in a specialized training or education program, on the job or off duty, or even while training with another military service," said Floyd McKinney, head of the AETC's Learning Services Operations Division. . "More than 800,000 Total Force airmen and guards needed an on-the-job training management and tracking system; myTraining now offers it.
According to McKinney, the fully interoperable and secure platform has a host of operational benefits for commanders and supervisors at all levels.
"The operational advantages of myTraining includes the ability to deliver, track and report on mission readiness training in one place, and maximize readiness during force generation cycles," McKinney said. "The system provides options for unique MAJCOM environments and reduces the time Airmen and Guardians spend on different platforms using shared services."
The updated application allows supervisors to assign, monitor, document and record the training and education activities that individuals must complete at specific times throughout their careers, while also enabling specific roles, such as training managers, deployment monitors, or commanders, to obtain and provide status reports. at the individual and organizational levels, McKinney said.
my training is expected to reach final operational capability in the fall of 2022.